Boyfie and me stayed in Parc Sovereign Hotel for our 4D 3N trip to Singapore.
Parc Sovereign Hotel
When boyfie booked this hotel, I saw the address was in Bugis..but to my dismay this

hotel actually situated very close to Little India MRT station la. So dun get cheated by the address in Bugis, which I thought it's nearby to Bugis MRT station and I actually walked all the way from that station on the first day arrived and some more pulling my trolley luggage along. It's really a very super hot damn tiring walk la..more than 15 mins I feel -_-"'. Cheapskate ppl like me tot wan save few bucks from taxi fare..by taking MRT and walking to the hotel..under a hot weather..it's really not advisable.
The reception area..nothing to do while waiting for boyfie to ask the receptionist
There is about 170 rooms here with the following types:
Superior Double - which is the one I stayed in and cost USD

323.20 (RM 1,034.45) for 3 nights. That's like RM344 per night.

Executive Twin

Executive Double

Family Deluxe
Personally I feel the room is terribly small..no place to put my luggage except to place it on the floor, directly under the high mounted TV.
My tiny superior double room
And each room is equipped with the following:
Kettle for making tea and coffee. The first few days they provide 2 small bottles of complimentary mineral bottle. Only the last night..I'm not sure why they gave bigger bottles.
Flat-screen TV that is mounted high up on the wall. Perhaps with this way, they save cost so

they dun have to fit in a TV cabinet? Oh ya..they also do provide DVD player, which I not sure does anyone watch DVD in the hotel one?
A small dressing table. Basically no place for me to put my facial items and handbag..so this is before i cluttered whole table with my stuff
Tiny shower area. It doesn't have a door to close up the shower area, so every time after shower also the whole floor is wet la
Small sink area
There is also a mini bar, safety box and a small wardrobe with 3 fixed hangers in it. One bad point about this hotel is they dun provide free WIFI. They force you to get breakfast for 2 pax at $18 only you can entitle for free WIFI. Luckily I already have my mobile data plan (read here for more info) which allows me to online for 4 days at a very high speed. Dun have to rely on this hotel's WIFI.
I did checkout the swimming pool in this hotel as I stayed in level 4, which is the same level as the pool area.
Swimming pool at night
Dunno who left their towel after enjoying the pool?
Can you see they have a tiny playground at the furthest end after the pool?
So how to get to the nearest MRT station?
The nearest station is Little India MRT station which is less than 5 mins walk from the hotel.
1. When you step out from the hotel entrance, turn left to the Albert Court. You will see the clock landmark as below. Parc Sovereign Hotel is situated next to the Albert Court Village Hotel. This hotel is damn classy la with the fancy nice dining restaurants and bars that is happening at night. Regret din book that :-(
The Albert Court clock landmark
2. Then walk straight into the courtyard area and you will see a trishaw on your left when you enter.

Trishaw at the courtyard
Fancy restaurants and bars that is happening at night
3. Walk to the end of the courtyard and turn right. Then continue walk till you reach traffic light.
4. At the traffic light, turn left and cross the road opposite.
5. Then turn right a bit (dun cross the road) and you will notice a sundry shop on your left.
6. Continue to walk straight till you saw the Little India MRT station.
Remember when you come back to this MRT station and wanted to get back to the hotel, take Exit A at the station.
If you find confusing, follow the red arrow in the map below. A is the Parc Sovereign Hotel and B is the Little India Station.
Red arrow shows the walkway path from the Hotel (A) to Little India Station (B)
I found a video online which features about this hotel:
How to get here?
Parc Sovereign Hotel
175 Albert Street Singapore 189970
Tel: +65 6337 6888
Fax: +65 6337 6865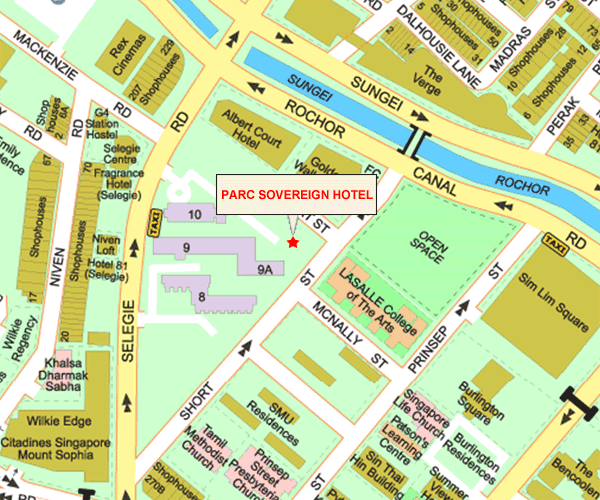 For Reservation, please contact:
Hotline: +65 6336 7888 / +65 6345 6116
Email: info@parcsovereign.com
Website: http://www.parcsovereign.com/
Checkout here for my travelogue in Singapore.