Since 1956 Sapporo TV Tower has been the most prominent landmark of Sapporo. The tower is 140.7 meters high and is visible from most areas of Sapporo.
Sapporo TV Tower
So you must be wondering whether it's still use to broadcast TV signals? Not anymore..it's been moved to Mt Teine. It is now used as an antenna tower for local FM broadcasting stations such as AIR-G and FM North Wave as well as a backup facility for TV when emergency.
The tower was designed by the same architect that design the famous Tokyo Tower, with the intention of becoming a similar landmark.
Compare with Tokyo Tower, which is 333 metres high, Sapporo tower is shorter
The tower features an information center, bus ticket center and souvenir stands on the 1st floor, a food court in the basement, and a restaurant on the 3rd floor. There is an observation deck at 90 meters that offers 360 degree panoramic views of the entire Sapporo downtown core as well as outlying areas including the Moiwa mountain range to the West and on a clear day even the ocean at Ishikari Bay to the North.
The view down the length of Odori park to the West is especially striking, and is the subject of some of the most iconic photos taken of Sapporo. It's a view that's often featured in guidebooks and websites about Sapporo. It's definitely worth taking the elevator up to see this view, although there is a fee of about 700 yen (less for tour groups, seniors and children) to go up to the observation deck. However, I din get a chance to go up the deck since it's so heavy snow storm..so can't tell u much abt it :-( I will definitely be back again to visit here..cross fingers
Snap a shot of boyfie with the Sapporo Tower behind
So famous that ninja also need to take one shot also
How to get here?
Odori Park is just beside Odori Subway Station or a ten minute walk south of JR Sapporo Station. All of Sapporo's three subway lines intersect at Odori Subway Station.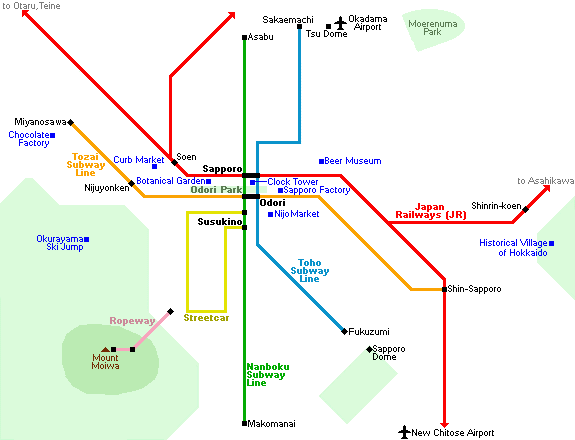 Website: www.tv-tower.co.jp
Opening Hours:
9:00 to 22:00 (late April to early October)

9:30 to 21:30 (early October to late April)

No closing days
Admission: 720 yen
For the full itinerary of my Hokkaido trip, checkout here.